School/organization experience education
School/organization experience education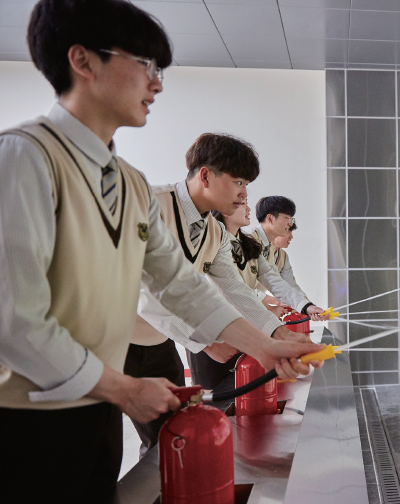 Area
[Traffic safety] [Daily safety] [Outdoor safety] [emergency and Student safety]
Period
2023. 3. 1. ~ 12. 31.(Monday-Friday)
object
Elementary, middle and high school students in Gyeonggi-do
Eligibility
Elementary, middle, and high school students in Gyeonggi-do Number of participants Up to 15 per zone (max. 720 per day), at least one guiding teacher mandatorily required
Duration
80 minutes (including orientation)
1st Monday-Friday 09:30 ~ 10:50
2st Monday-Friday 11:00 ~ 12:20
3st Monday-Friday 13:20 ~ 14:40
4st Monday-Friday 14:50 ~ 16:10
How to apply
Online reservation Link to how to apply
Application period
First day of each month, from 10:00 / first-come-first-served basis (see notice for changed hours and other details)
Fee
Free
Contact
Education program / Online reservation (031-839-1482)
Information for group education
Experience areas
Daily safety zone

Fire safety

Fire safety education | Fire drill experience | Fire detectors that save lives

Fire extinguisher experience

How to use fire extinguisher (hydrant) | experience of lab fire fighting

Daily safety (outdoor)

Camping safety rules | safe outdoor activities

Occupational safety

Safe workplace | risk factors on roads | construction site safety

Elevator safety

Elevator safety education | experience of elevator accident

Daily safety (home)

Living room safety | kitchen safety | bathroom safety

Evacuation experience

Fire evacuation

Descending lifeline

Safety education for evacuation instruments | experience of descending lifeline | evacuation rescue team

Traffic safety zone

Pedestrian safety

Traffic safety education | pedestrian rules | crossing roads

Bus safety

Bus safety education | emergency evacuation in case of bus accident

Car safety

Car safety rules | car rollover experience | dos and don'ts in case of traffic accident

Subway safety

Platform safety rules | subway car safety rules | evacuation in case of fire

Bicycle safety

Bicycle safety education | safe biking (simulator video)

ship safety

experience of ship tilt experience

Outdoor safety zone

Wind and flood damage

Safety education against wind and flood damage | prevention of damage | experience of typhoon and strong wind

Earthquake

Safety education against earthquake | earthquake at school | evacuation to the playing field | watch out for aftershocks

Vessel safety

Cautions for vessel passengers | vessel safety education | evacuation in case of vessel accident | swimming safety education

Fine dust

Fine dust as a silent killer | daily action plans against fine dust | fine dust quiz | attack of infectious diseases

Social safety

Emergency response in case of alarms | CBR protective gear | survival backpack

Student safety zone

Sex education

Birth of life | Sex for teenagers | Report distorted sex | My unique sex

Prevention of sexual violence

Our safe neighborhood | moot court

Prevention of school bullying

Play should be fun for all | onlooker to helpful defender | smartphone manners

Respect for life

Facing stress | relieving stress

Peer camp

With You (sexual violence) | Positive emoticon contest (bullying at school) |
You are not alone (saving life) | Our valuable human rights

Prevention of addition

Preliminary education for prevention of addiction | Indirect experience of drinking | Indirect experience of smoking

Future and emergency safety zone

Future safety

Cyber safety experience in a future city (mobile VR)
Virtual safety experience (VR)

Emergency safety

4D image experience (for 110cm or taller) |
CPR experience Respiratory obstruction | Heimlich maneuver | Daily first aid
How to book
Online reservation (https://www.goese.kr/resv)
Reservation closed 7 days prior to the desired date, cancellation 2 weeks earlier
School/Teacher

Group experience
Apply

GPKI certificate
Login
(Membership not required)

Check for consent form
(Safety control, portrait right)

Date/program
Select

After application for group experience
Approved

Reservation approval message
Confirm
How to book
School/group experience

School/group experience is available only for faculty and staff in public and private elementary, middle, and high school students in Gyeonggi-do.

For group experience, login with GPKI for NEIS and apply.

Individual/family experience

Individual/family experience is available for elementary or higher students accompanied by guardians.

Applicant (guardian) for family experience may apply after logging in with the user identification service.

※ Children should be accompanied by their guardians at all times, and preschoolers are not allowed due to safety concerns.

Staff Only

Staff Only is the menu for the employees of Gyeonggi-do Office of Education Safety Education Institute.